Products tagged with 'herbal tea'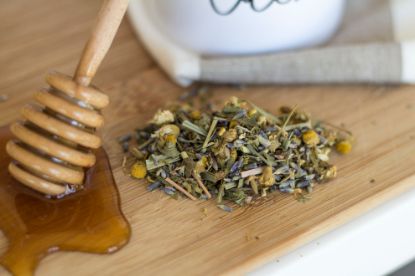 Herbal Tea Blends, 100% organic

Available in 1oz or 2oz pouch

Focus Blend (Great morning blend, with caffeine)

Healthy Boost (Whole body support)

Sereni-Tea (Relaxation blend, Great before bedtime)

Tea-Tox (Detoxifying Blend) - Currently Unavailable

Focus Blend (Contains Caffeine)- This blend is the perfect morning tea, or afternoon pick-me-up. The mild caffeine in the pu-erh black tea combined with the clarity provided by the peppermint and spearmint leaves will provide you with energy and focus without leaving you feeling jittery. Use natural rock sugar or stevia to sweeten and enhance the flavor.

Sereni-Tea (Relaxation Blend)- The perfect blend for that after work wind down, or at bed time to clear your mind of the days stresses. This herbal tea combines Sweet Streams Lavender with chamomile, spearmint, and lemongrass for a great tasting and calming blend sure to end your day in peaceful rest. Sweeten with organic honey to enhance flavor

Healthy Boost (Digestive and Immune Support)- This tea packs a heathy and flavorful punch. Chamomile, Echinacea, and lemon grass combine with delicious slightly spicy fennel and ginger for a full range of complex flavors. Add your favorite organic honey to enhance the immune system health benefits and sweeten.

Tea-Tox (Detoxifying Blend)- Gently detoxify your body, while enjoying the silky smooth buttery taste of this delightful blend of herbs. Blackberry Leaf, Spearmint, Peppermint, Bee Balm, and Lemon Balm blended in perfect harmony. Sweeten with your favorite organically produced honey if desired.