Products tagged with 'kansas lavender'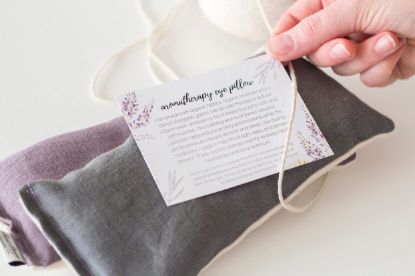 We are excited to offer Sweet Streams Lavender Aromatherapy Eye Pillow.

Handmade with organic fabrics, organic lavender and a blend of organic grains. use as cold therapy to reduce inflammation and pain or hot therapy to soothe sore and stiff muscles. The calming aroma of Sweet Streams Lavender helps reduce anxiety and insomnia while the gentle pressure relieves tension and stress. Use during meditation/yoga to help block out light, relax and remain present. These are the ultimate treat for restless minds, headaches and sinus pressure.
The From the Land of Kansas Holiday Gift Boxes make gift-giving easy and impress those who are hard to shop for. Filled with wonderful Kansas-made goodies, you can have this box shipped directly to the recipient with a handwritten note.

The Konza Box Products: Honey (New Hope Farm & Apiary in Wellsville); Beef Jerky (Pat's Beef Jerkey from Liebenthal); Lightly Salted Wheat Snacks (Wheatland Foods from Hays); Hot Chocolate (Sunflower Fundraising Company in Olathe); Kenzee's Everything Sauce (MKC Kitchen LLC in Bazine); Mustard (Grannies Homemade Mustard from Hillsboro); and a complimentary From the Land of Kansas branded leather coaster.

The Ad Astra Box Products: Medium Garden Salsa (Holmes Made Salsa in Wichita); Tasty Teriyaki Beef Sticks (Yoder Meats from Yoder); Mild and Sassy Dry Rub (Spice It Up from Bonner Springs); Prairie Ranch Dip Mix (Twisted Pepper in Wichita); Red Wine Chocolate Sauce (from Cocoavino in Olathe); Popcorn (Free Day Popcorn from Belleville); Chocolate Bar (Signet Coffee Roasters in Pittsburg); Lavender Lip balm (Sweet Streams Lavender Co. in Bucyrus); Beer Bread Mix (Bruces Bullseye Farms in Leon); Sunflower Oil (Wright Enterprises in Bird City); and a complimentary From the Land of Kansas branded coaster.

For orders larger than 10, please contact fromthelandofkansas@ks.gov for an order form.

Please note, boxes can NOT be delivered to P.O. Boxes.
For multiple shipping addresses, please place each order separately or call 785-564-6759